In keeping with tradition, here is my 2017 holiday card. This predates the new Glowforge by a few months. So, it was done on the Gazelle cutting machine.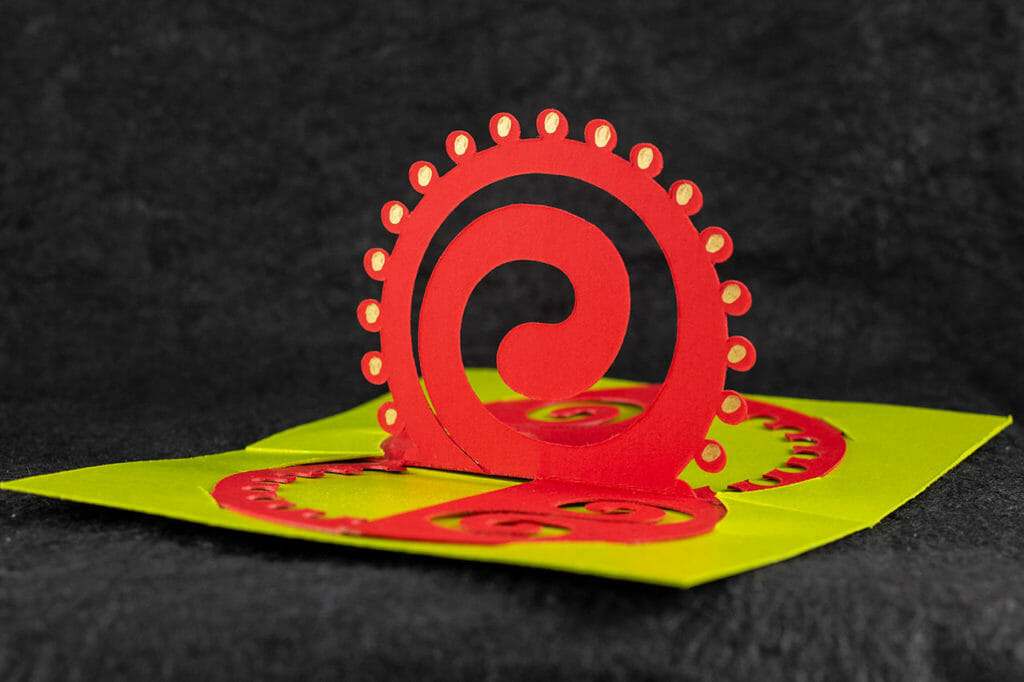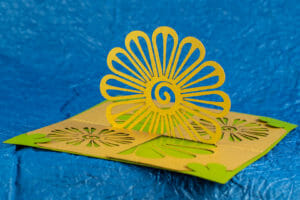 I have been having fun making these 180º open twisted crest style origamic architecture pop up cards. This is a clever technique and, I wanted to invite you to join in the fun.  This post includes patterns for my new Flower Crest design, suitable for production on a laser cutter, a craft CNC cutter or, by hand.
Most people will have to actually make one of these cards or watch the folding video to get how it works.  I originally spotted this technique used for several patterns in Keiko Nakazawa's 2006 book 3D Pop-Up Greeting Cards (link in the resources section below) and, abstracted it to make my own designs. Rather than gluing to backing cards, I prefer to develop other approaches like what I have done here.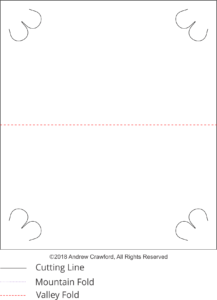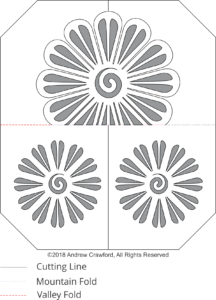 Machine Settings
Settings for your cutting machine, whether CNC or laser, will vary depending on your machine, the specific paper stock you are using and other factors.
The paper I used for my cards was 0.014″ thick 105lb cover stock.
On the Glowforge, I used a speed of 500 and power of 72 for the cut lines and a power of 18 for the mountain fold lines.  I scored the valley fold lines on the back by hand with a craft knife.  If you are a Glowforge user, you likely have some experience dialing in settings for a particular material. I color-coded the file so that the GFUI will separate and order the operations on import.
27 July 2019 update: I'm seeing less smoke deposition with lower power and slower speed.  I have switched to using 250 speed and 36 power.
My settings for each operation for the Gazelle cutter are in the MTC file as layer descriptions (D is depth setting on my adjustable blade holder, V is velocity and F is force). Those will probably be mostly useless unless you are also using a Gazelle cutter with an adjustable blade holder.  If you are a craft cutter user, you are likely used to sorting out settings for a given stock.  The layers are in the order you should cut them.  The last two layers are the backing card (one score and the cuts).
This Viking longship OA/kirigami pop up card was some time in the making.  I'm quite happy with it, especially the dragon head.
I made four custom rubber stamps for imprinting the sails (two dragons and two spirals, one for each orientation). The metallic ink takes a long time to dry (like a month).  So, I embossed them with clear embossing powder and a heat gun.  The tongue is painted red.  Lots of fragile bits on these.  So, they required careful handling.
Another of the "twist" style origamic architecture pop up card. This one is inspired by Lucy Bellwood's character from her 100 Demon Dialogues comic collection. It's great and, you should check it out.
I wanted to make something to contain my work hold-down pins for the laser cutter. I had seen some simple felt trays that were formed from squares with the corners pinched and sewn together. It seemed like a no-sew technique might work well for that and, it did!
For assembly, I push a pair of small 5″ needle-nose pliers through the slit and, pull the mushroom-shaped tabs through.  If you want more guidance, I made a quick video showing production and assembly.
Update: I made another felt tray in "peacock" blue.  The edges did not char evenly, which looked a little odd.  Light application of a fine sanding sponge removed most of the edge char.
If you would like to make your own no-sew felt tray, you can use the pattern linked below. I am releasing this under a Creative Commons license.  You are free to use and modify this pattern for non-commercial purposes.  If you make changes to the pattern, you are encouraged to release your changes back to the community.
If you want to do something else with it (like make and sell felt trays), please contact me for separate licensing terms.
Pattern:
Tools and Supplies: