Laser-cut Spiral Stamp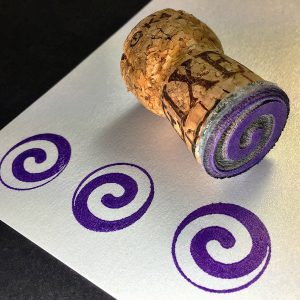 One thing that always appealed to me about having a laser cutter in the studio is being able to create rubber stamps as needed, rather than having to send artwork out to a service. I have some "low odor" laserable rubber on-hand that I have never used. So, as a quick evening project this week, I created this little spiral stamp on the new Glowforge. I mounted it on a champagne cork using carpet tape, with a layer of plastic packing foam between the rubber and cork.
Important lessons learned here include how to size artwork for the GFUI and, that you absolutely do not want the residue from laser engraving rubber on your hands.